2023 Wiccan Business Kit – $14.95
Just Published!

For those wanting to start their own Wiccan / Pagan business, we have put together this kit to help you make your goal a reality. The Wiccan Business Kit is the best resource for wholesale products and dropshippers for the witchcraft market, and a great guide that will show you how to begin your new business.
Updated, 2023 Edition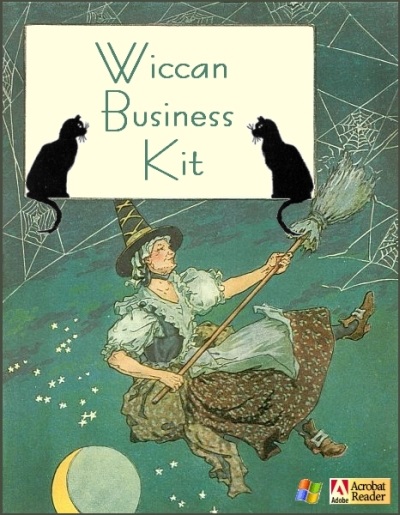 YOUR OWN WITCHCRAFT BUSINESS:
The 2023 Wiccan Business Kit will not only provide you with a directory of wiccan / pagan wholesalers and dropshippers, it will also explain how to obtain a Sales Tax ID Number / Resale Certificate, which is required by wholesalers or they will not do business with you. (Please Note: This kit does not contain store software; if you would like us to install a store for you with 6,000 wiccan products, please Click Here).
In addition to the directory, the kit also includes the eBook Starting A Wiccan / Pagan Business: Dropshipping Made Easy, which explains chapter by chapter the ins and outs of how exactly dropshipping works and what is needed to be a success.
The 2023 Wiccan Business Kit is available right now for downloading for only $14.95.

HERE IS WHAT YOU'LL GET:

The Wiccan Wholesale & Dropship Directory: Updated, 2023 Edition
The directory contains pagan wholesalers and dropshippers that carry thousands of beautiful, unique, and quality witchcraft products that your customers will love. One example is a dropshipper that has over 6,000 wiccan / pagan products available to you. If you don't know what dropshipping is, it is basically wholesalers who will ship directly from their warehouse to your customer's doorstep. This means you will never have to keep an inventory or ship anything — the dropshipper does it all for you. Using a dropshipper (one or more dropshippers) allows you to offer a large selection of wiccan products to your customers without having to invest in any inventory. You order the products only as you need them, and only AFTER a customer has ordered from you.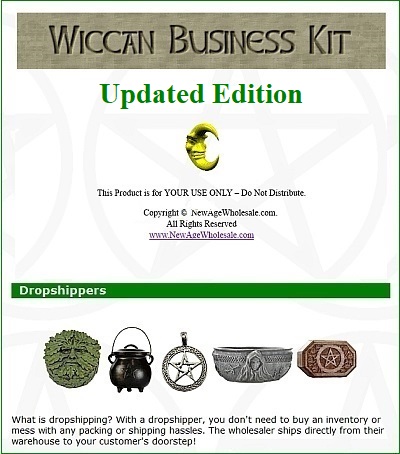 Here are some examples of the products you can be selling:
Incense
Essential Oils
Tarot Decks
Cauldrons
Candles
Candleholders
Tarot Boxes
Sculptures
Rune Sets
Crystal Balls
Amulets
Pentagram Jewelry
Sacred Tools
Zodiac Pendants
Triple Moon Pendants
Crystal Point Pendants
Magickal Boxes
Aromatherapy
Tumbled Gemstones
Astrological Jewelry
Celtic Jewelry
Mortar & Pestle
Energy Balancing Kits
Crystal Wands
Greeting Cards
Herbs
Chakra Pendulums
Witch Cupboards
Incense Holders
Pentagram Wall Plaque
Altar Statues
Books
Music
Magnets
Bumperstickers
Patches
Goddess Statues
Pentacle Earrings
Posters
Oil Diffusers
Athames
Scrying Mirrors
Altar Tiles
Pentagram Altar Tables
Chalices & Goblets
Tapestries
Devotional Bowls
Herbal SpellMixes
Egyptian Items
Fairy Items
Pentagram Windchimes
Dragon Stauary
Bracelets and Rings
And Much More!

Starting A Wiccan / Pagan Business: Dropshipping Made Easy
This eBook explains everything you need to know about dropshipping. Unlike just about any traditional business (online or offline), dropshipping doesn't require a huge outlay of capital to get going. Since you don't have to pay for much upfront, you have much more leeway in your business for adjusting as you learn. By using a dropshipper, you can completely bypass most of the hassles that other businesses have to deal with. This leaves you with more free time for whatever else you have going on in your life, rather than having your business dictate how much time you have available.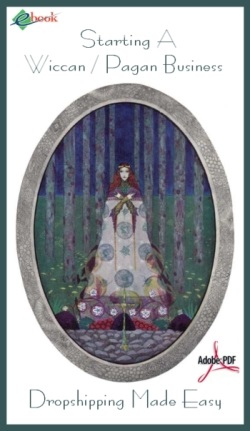 In this guide we will discuss:
Is dropshipping right for you? The most important step is identifying whether dropshipping is the right fit for your situation. We'll discuss the minimum requirements, as well as give you an idea of what you have to look forward to.
The advantages and disadvantages of dropshipping. There are many things to love about dropshipping, but there are a few disadvantages as well. Everything you need to know is discussed.
What is the best method for you to sell products? Like most businesses, you have decisions to make about where to begin selling your products, and ways you can expand on your business once you are satisfied that it's working.
How to get started. We lay out the steps for you to take to get your pagan business in gear so you are ready to take orders, and how to be competitive selling the products you've chosen.
Plus much more!
If you are looking for one of the best opportunities for running a business from home, then a dropship business may be for you. It's easy to set up, low cost, and you can work from the comfort of your own home.

QUICK SUMMARY:
The 2023 Wiccan Business Kit includes:
A listing of wholesalers & distributors of Wiccan / Pagan products.
A listing of dropshippers of Wiccan / Pagan products (these companies will ship directly to your customer).
A listing of Affiliate Programs.
Instructions on how to obtain your Sales Tax ID Number / Resale Certificate so you can buy wholesale.
The eBook Starting A Wiccan / Pagan Business: Dropshipping Made Easy.
Tax-deductable as a business expense!
This product is available for Windows, Macintosh, Linux, and mobile devices.
The Wiccan Business Kit is only available here. Download it today.
(THIS PRODUCT FOR YOUR USE ONLY – DO NOT DISTRIBUTE)