2023 New Age Wholesale Directory (1,200 Metaphysical Wholesalers) – $24.95
Just Published!

Over 1200 New Age wholesalers listed. Sell books, tarot decks, crystals, candles, incense, etc. 40% to 50% discount on thousands of metaphysical products. Hundreds of FREE wholesale catalogs available. If you've ever wanted your own New Age business, this is the starting point.
(Download Only: PDF format)
Would you like to make a living selling crystals, pendulums, New Age books, music, DVDs, and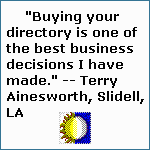 thousands of other products … perhaps in your very own New Age bookstore, mail-order catalog, or web site? It's not too hard to accomplish if you know where to find the legitimate metaphysical wholesale distributors.
BUT WHERE ARE THEY?
YOUR OWN NEW AGE BUSINESS:
Since New Age wholesalers and distributors rarely advertise, it can be difficult to find all of their web sites. But that's where we come in — we've done all of the hard work for you. If you have a business or perhaps starting a business, and you are looking for the best new age wholesale products available, we have just what you need. Introducing the
Updated, 2023 Edition
of the
The New Age Wholesale Directory
.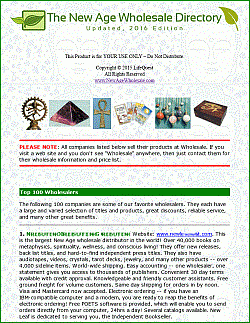 Many satisfied customers – Read our Testimonials.
This is the New Age suppliers list you've been waiting for. There are over 1200 quality New Age wholesalers and distributors listed. Many of these companies carry a large product line, some offer free wholesale catalogs packed with thousands of New Age products, such as …
… Celtic jewelry, aromatherapy products, pendulums, incense, incense holders, Hindu and Egyptian statuary, crystals & gemstones, crystal wands, crystal balls & stands, pyramids, candles, herbs, essential oils, bath salts, tarot decks, compact discs, DVDs, calendars, magazines, talismans, runes, Wiccan & Pagan supplies, tuning forks, chakra crystal bowls, chalices, clay sculptures, dowsing tools, clothing, bumper stickers, greeting cards, yoga supplies, Native American products, henna products, body jewelry, reflexology cards, charts, flower essences, artwork, Celtic items, new age music, Scrying bowls, Scrying mirrors, ouija board, new age jewelry, tapestries, cloaks, scarves, spell kits, hemp items, wiccan jewelry, stone pendants, chains, goddess jewelry, healing stones, votives, Gargoyles, sun catchers, posters, bath oils, bath salts, crystal points, tumbled stones, medicine bags, magnets, pendants, mythical & fairy handblown glass figurines, charms, wind chimes, environmental gifts, dream pillows, smudge pots, ceremonial cauldrons, rare minerals, oil lamps, natural healing remedies, wall plaques, astrological jewelry, Tibetan singing bowls, prayer wheels, prayer flags & banners, altars, Buddhist amulets, feng shui products …
… and so much more! Literally thousands upon thousands of unique, hard-to-find items that will keep your customers coming back for more.
But the best deal of all is, most of these companies will give you a 40% to 50% discount off all of their products. (There's even a wholesaler listed in the directory that will give you an unprecedented 70% off all of their metaphysical books.) With this directory, which lists over 1200 metaphysical distributors, wholesalers, and publishers, you will have all of the resources you'll ever need to start your own New Age business, whether it's selling products at your own web site, opening a bookstore or gift store, starting a catalog, or simply selling at flea markets and New Age conventions. Whatever your venture, you now have the opportunity to buy ALL of these New Age products at unbelievably low prices.



To give you a better idea of the type of products available, take a look at the following pictures. These are just examples, however; we cannot guarantee that the products shown here will be available at all times, but it will give you an idea. Example 1; Example 2; Example 3; Example 4; Example 5; Example 6; Example 7; Example 8; Example 9; Example 10; Example 11; Example 12; Example 13; Example 14.

THE WORLD'S LARGEST NEW AGE DISTRIBUTOR:
Included in the directory is a company so BIG that it's known as The World's Largest New Age Distributor … and they are based right in the United States. They distribute over 40,000 new age books, audios, DVDs, music CDs, and thousands of other products such as crystals, pendulums, incense, jewelry, etc. They also have a large wholesale catalog available monthly to showcase new products and best sellers. Just having the name of this company and access to their web site is worth the price of this directory.

YOUR OWN MAIL-ORDER CATALOG:
There is another company listed in the directory that produces ready-made catalogs designed for self-mailing — now you can have your own professionally done New Age / Metaphysical catalog to send to your customers. This 16-page catalog (updated four times a year: Spring, Summer, Fall, Winter) is packed with previews of some of the latest New Age gift items, books and CDs — each product has a photo and is fully described. This catalog also has an order form and can be custom imprinted with your company name, address and phone number on the front and back cover. Just address your copies and drop them in the mail or insert them inside your own newsletter. You can purchase at wholesale all of the products in the catalog from one of the best metaphysical distributors around (see above). Now you're in the New Age mail-order business with no fuss, no hassles, and no headaches. And the company that produces this ready-made catalog can be found right in The New Age Wholesale Directory.

AFFILIATE PROGRAMS:
In addition to the 1200 wholesalers and distributors in the directory, we've also included many companies that offer New Age Affiliate Programs, allowing you to earn referral fees on the following products:
Incense
Oils
T-shirts
Pyramids
Candles
Clothing
Feng Shui
Statuary
Chimes
Asian
Gems
CDs
Egyptian
Zodiac
Aroma
Health
Stickers
Soaps
Jewelry
Wiccan
Celtic
Crystals
Fairy
Tarot
Cards
Herbs
Vitamins
Hindu
Teas
Hemp
Wands
Incense
Runes
Tibetan
Fountains
Waterfalls
Goddess
Meditation
Massage
Eye Pillows
Yoga Mats
DVDs
Bodycare
Pendulums
Organic
Buddhas
Carvings
Ecology
Juicers
Soy Items
Artwork
Posters
Magazines
And More!

SPECIAL FEATURES:
A listing of over 1200 web sites in the United States: New Age distributors, wholesalers, and publishers. To visit a web site, all you do is click on the wholesaler's link and you are taken to their site (internet access required). This is the Updated, 2023 Edition which includes the very latest companies (many new companies have been added to this edition).
A bonus selection of foreign wholesalers (outside the United States): Canada, United Kingdom, Australia.
Descriptions of some of the products each wholesaler or distributor offers (be it crystal balls or prayer flags from Tibet).
TRUE wholesalers, typically giving retailers 40% to 50% discounts or more.
Many FREE wholesale catalogs and brochures available — just contact the companies!
Online ordering and world-wide shipping from the major distributors.
Top 100 Companies — Our pick of the 100 very best New Age wholesalers and distributors. These are the companies you should contact first. They offer an impressive selection of items, great discounts, reliable service, and much more. This list alone is worth the price of the directory.
A listing of New Age Affiliate Programs — earn referral fees by simply linking to other's web sites.
The directory is professionally designed and well organized. The directory is in PDF format and is very easy to use — to visit a wholesaler's web site, just click on a link.
Easy navigation. Our directory makes it easy to find what you are looking for. Distributors / wholesalers, and publishers have been alphabetized and listed separately for easy navigation and convenience.
A great resource for writers searching for that perfect New Age publisher, or companies that are looking for a distributor for a New Age product they've created.
More listings! Also in the directory: listings for manufacturers of store fixtures (shelving, etc.); plus instructions on how to obtain a Sales Tax ID Number or Resale Certificate; and don't forget the company that publishes ready-made catalogs (see above for more information) that you can imprint with your store name and address and then mail to your customers.
The New Age Wholesale Directory is tax-deductable as a business expense!
The directory's PDF documents work with Windows, Mac, Linux, and mobile devices.
You can download the directory now. As soon as you order you will see a download link. The download link will also be emailed to you.
Download "The 2023 New Age Wholesale Directory" today and get your business started …
(Download Only: PDF format)
This directory is not available anywhere else. So, if you are serious about starting your own online New Age store, or if you already have an existing business and want to provide the latest and greatest New Age products for your customers, then
The 2023 New Age Wholesale Directory
is indispensable.
Please take a few minutes to read our Testimonials (or click the button below to Order).
(THIS PRODUCT FOR YOUR USE ONLY – DO NOT DISTRIBUTE)