2019 New Age Dropship Directory (Metaphysical Dropshippers) – $19.95
Sell thousands of metaphysical products without having to spend a single dime on inventory. Dropshippers are wholesalers who ship DIRECTLY to your customers. This means you never have to keep an inventory or ship anything — the dropshipper does it all for you. Using a dropshipper (one or several dropshippers) allows you to offer a huge selection of products to your customers. You order products only as you need them, and only after a customer has ordered from you. Selling made easy! (

PDF file works with Windows, Macintosh, Linux

)
NEW AGE DROPSHIPPERS
The truth is, dropshippers that sell any type of New Age or metaphysical products are very hard to find. But, we found them! In the 2019 edition of The New Age Dropship Directory you will find over 100 wholesalers that will dropship directly to your customer's doorstep. Here are a few examples:
A dropshipper that carries literally thousands of New Age and Wiccan products: candles, incense and incense burners, Egyptian items, aromatherapy products, angels, Buddhas, books, tarot decks, essential oils, New Age music, and so much more. The way they do dropshipping is they charge you their wholesale prices (50% off most items) and then they ship directly to your customer. Why keep an inventory with a service like this!
Another dropshipper has a huge selection of beautiful New Age jewelry: Astrology / Zodiac, Celtic, Crystal, Rune, Egyptian, Dragons, Fairies, Angels, Dolphins, Mermaids, Griffins, Pegasus, Wizards, Wolves, Ankhs, Pharoahs, Scarab Beetles, Eye of Horus, Pyramids, etc.
Another dropshipper carries products from India, including Buddhas, pendulums, singing bowls, incense burners, Tibetan items, wands, soap stone, etc.
We've also included dropshippers for Goddess sculptures, herbal products, essential oils, aromatherapy products, pendulums, candles, pagan art, crystals, gemstones, quartz wands, bath and body products, desk-top fountains and waterfalls, Tibetan gifts and ritual artifacts, statues, meditation supplies, tapestries, Tarot and I Ching software, chalices, pewter pendants, altar tiles, angel products, Indonesian items, wind chimes, mobiles, bells, Native American products, vegan products, healing stones, massage tools, vitamins, holistic pet supplies, handmade soaps, Buddhas, and more.
If you understand how difficult it is to find New Age dropshippers, then you will really appreciate this directory!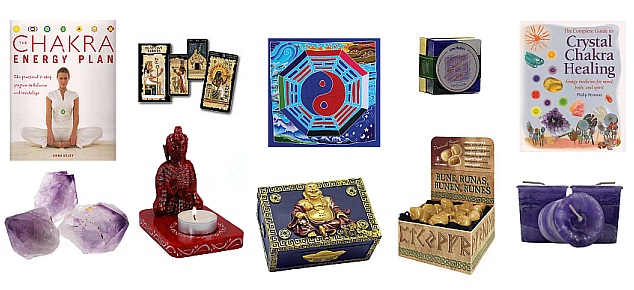 SPECIAL FEATURES
A listing of over 100 web sites. To visit a dropshipper's web site, all you do is click on the dropshipper's web link and you will be taken to their site (internet access required). This is the Updated, 2019 Edition which includes the latest dropshippers.
Descriptions of some of the products each dropshipper offers, be it incense or prayer flags from Tibet.
The directory is professionally designed and well organized, with large font for easy reading. The directory is in PDF format and is very simple to use — to visit a dropshipper's web site, just click on a link.
This product is tax-deductable as a business expense!
The directory's PDF document works with Windows and Macintosh computers, as well as Linux.
Free Bonus: We'll also throw in 200 metaphysical clip-art images that you can use for your business … beautiful images to add elegance to your newsletters, catalogs, brochures, envelopes, or web site.
This directory is only available here. Download "The New Age Dropship Directory" today.
(THIS PRODUCT FOR YOUR USE ONLY – DO NOT DISTRIBUTE)